Best Prostate Massager | Our Top 5 Picks in 2023
Jan 1, 2023
Best Prostate Massager - We've scoured the site to find out what we're looking for. Why? Prostate massagers are more than just sex toys. Men can use them to relieve symptoms associated with prostatitis and other sexual health issues. But which one is right for you?
---
Prostate orgasm is different from the pleasure brought by ejaculation orgasm, and the duration of pleasure brought by prostate orgasm will be longer. It makes people feel more satisfied. For anal lovers, different people's physiques lead to different choices for prostate massagers.Common prostate massagers are mainly divided into two categories, suitable for people with two pursuits.We find the top 5 most popular different types of prostate massagers on sitmulab.com for our customers.
---
NO.1
Sitmulab™ The Best Male Prostate Massage Anal Plug Vibrators for Men
🔥[A Stretchy Silicone Ring, Plus Powerful Thrusting Anal Vibrator]
: 3 In 1 Design Anal Vibrator + Prostate Massagers + Cockring. Our sex toy is a butt plug with cock ring – it combines the erection-boosting power of a silicone cock ring with perineum massage, awesome anal stimulation, and some light prostate play. As you move, your motion tugs gently on the toy, sending waves of pleasure from the base of your penis to your prostate.
🔥[3 Strong Thrusting & 7 Vibrating Modes & 32ft Remotely Control]
: Deep, rumbling, powerful vibration and thrusting, rippling sensations every time you move it. Curved tip for G-spot and prostate massage. Hands-free thrusting and pulsing with remote control.
🔥[Silky-Smooth Silicone is Extremely Hygienic]
: These sex toys are made of body-safe materials, non-porous and hypoallergenic. The strong stretchy silicone cock ring is super durable help to maintain a rock-hard erection. The double ring can be stretched to fit all sizes and give you the most comfortable wearing experience. Silicone is easy to clean and 100% waterproof. You can use it in the shower.
🔥[4.7" Insertable Length and 1.2" Diameter]: Modest in size and impressive in design, the annual vibrator is perfect for extra-curious beginners and sex toy enthusiasts alike. While everybody is different, the anal plug's stretchy silicone makes it a good fit for most people. The ergonomic design makes this anal sex toys can act as anal vibrators for men and thrusting dildo toys for women as g-spot stimulators.
Why do I think this is the best prostate massager? It's Thrusting, Vibrating, and Cock Ring 3-in-1. That's enough to make it stand out from other types of prostate massagers.The contoured head and angled shaft work together to apply tantalizing pressure directly on the prostate. Reviewers love the strength of this toy, but be aware that it might not be a good choice for beginners due to its size. Sitmulab™ The Best Male Prostate Massage Anal Plug Vibrators for Men- The Vibrating Prostate Massager with Cock Ring This best-selling prostate massager features 7 vibration modes3 telescopeic frequency.a remote control and a cock ring in a sleek, flexible construction. No wonder how it has multiple 5-star ratings on our online store.
As an anal toy, it can be used by either gender and reminds everyone that toys can be fun in many creative ways! Thanks to its unique finger-shaped design, the texture in the shaft detail provides extra stimulation for those more experienced anal playrs.
---
NO.2
Sitmulab Vibrating Prostate Massager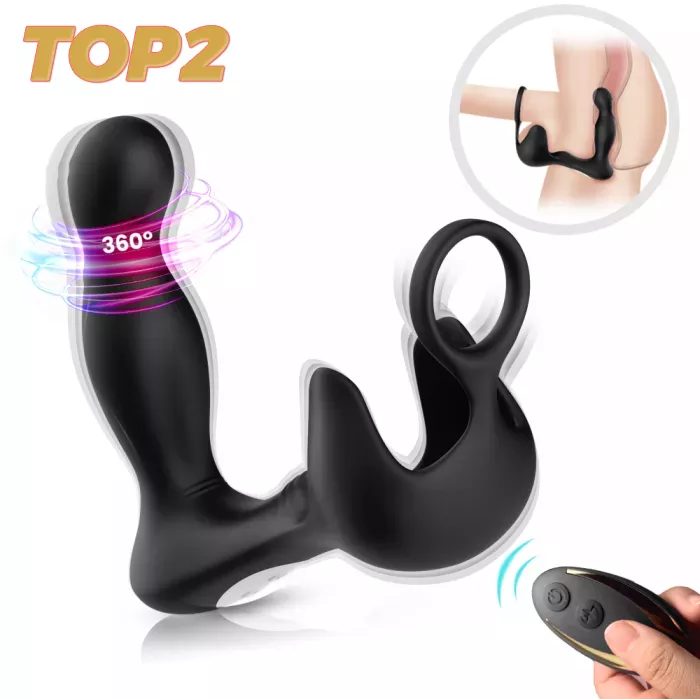 ●Not only an anal massager but also a testicular massager to wrap your testicles until you get super excited
●7 flapping modes to enlarge and increase sensitivity, you'll be taken to irresistible new sensations.
●Remote control for creative play possibilities
●Skin-friendly silicone for hassle-free use.
●USB rechargeable for anywhere
P-spot toys with 7 flapping modes look for points in your anus that excite you . After finding the excitement point, turn on the flapping function of the toy, and tap your p point. Prostate orgasm will make you unable to forget.
The male testicle is a part that cannot be ignored, it is sensitive and easily irritated. Testicle massage toys can completely wrap your testicles. 7 different vibration modes make you feel more pleasure.
P-point prostate toys with triple stimulation , massagers that perfectly wrap the testicles, and perineal stimulation with rich texture. The three functions are integrated into one. Let every sensitive point of you be taken care of.
Please note: The toy is easy to clean using warm soapy water or a good toy care fluid/foam. Compatible with any favorite water-based lube.
---
NO.3
12 Vibrating 3 Thrusting Prostate Massager With Dual Cock Rings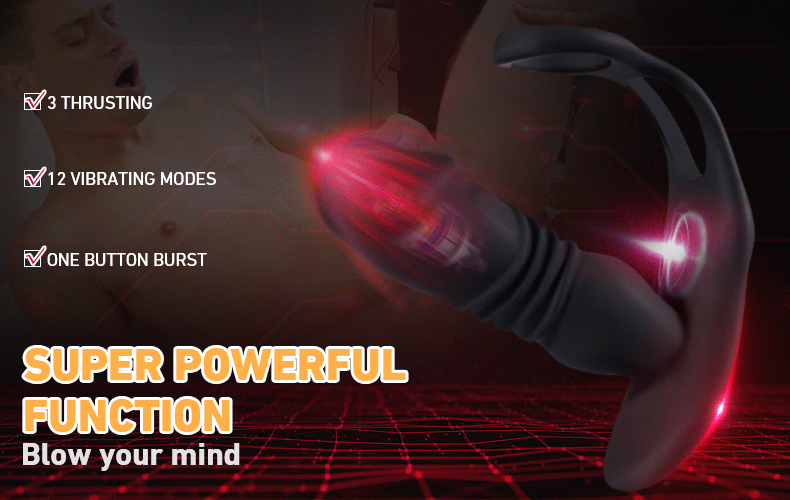 ●3 thrusts ar enhanced erection strength and delayed ejaculation.
●One button burst stimulates your sensitive perineum with the most intense vibrations for 10s to bring orgasm.
●High-quality material and ergonomic design, which is skin-friendly and fits the private part.
●Low noise, remote control, waterproof, rechargeable, bring you more possibilities.
Dude, have you experienced a prostate orgasm?
Frankly, It feels like intense waves of pleasure that begin deep inside your body and radiate through the rest of your body. In other words: Ah-mazing!
This feeling is exactly what SAUL can bring you!
This high-tech device has everything you want a prostate massager to have, and even more to offer.
SAUL is equipped with robust dual motors to strongly massage the prostate, anus, and perineum, plus 3 thrusting & 12 vibrating modes, orgasm burst mode, will give you the ultimate mixed orgasm.
It also comes with dual cock rings, stretchable rings fit your penis and ball while stimulating the sensitive perineum with gentle pressure. Perfectly slow down the flow of blood and help you prolong the time of sex.
Insert the perfect size of 5.11'' length and 1.57'' diameter glans shaft into your or your partner's asshole, Start massaging the area slowly and gradually pick up the pace based on their oohs and ahs, play with thrusting, as well as vibrating, to find the magic combo!
You will love it!
---
NO.4
Sitmulab™ 10 Vibrating 3 Thrusting Remote Control Anal Vibrator
●Vibrating prostate massager with penis ring can enhance erections and induce powerful climax
●Explore 10 thrilling vibration and 3 thrusting patterns for satisfaction that suits you
●Threaded shaft and realistic glans to seek out the prostate stimulation
●Made of skin-friendly silicone, which is soft to touch and safe to use
●Play hands-free with the remote or invite a partner to tease you from a distance
●IPX6 waterproof and USB rechargeable
We'll let you in on a secret... We know what's at the center of black holes... or at least this one: pure pleasure!!
Combining a temptingly textured butt plug with a squeezy-pleasy cock ring, this toy powers on to deliver hands-free delight via remote control. Feel the texture of the sexy plug in your ass while the stretchy ring wraps snugly around your cock. Dual motors in the center shaft and tickler blast you inside and out with 10 powerful vibration and 3 thrusting functions that'll blow your mind.
The 4.5"Insertable Length and 1.77"Diameter make it great for all levels of experience. Explore the excitement of anal play during your solo sessions, or pass the remote to your partner for outstanding foreplay and fun. Odor-resistant, smooth to the touch and quickly warming to body temperature, this super-stretchy silicone ring maintains firm erections that last and last, so you can endlessly explore your fantasies.
NO.5
Sitmulab™ 2 In 1 8 Thrusting 8 Vibration Cock Ring Anal Vibrator
●Explore 8 thrilling vibrations and 8 thrusting patterns for satisfaction that suits you
●High-peed thrusting & vibration, reach climax in one minute
●Dual cock ring effective in delaying ejaculation
●IPX6 waterproof and USB rechargeable
1.4 in 1: This anal toy made of safe smooth silicone can stimulate the P-spot, perineum, balls, and penis at the same time, trust me this will be your most versatile and money-saving anal toy!
2.Multiple modes: 8 vibrations and 8 thrusts with the robust motor to explore for satisfaction that suits you, long telescopic distance to hit your P-spot precisely, so you can feel the ultimate prostate orgasm!
3.Ergonomic design: 4.3'' insertion length with 1.5'' insertion diameter to meet the size needs of both beginner and advanced players, the large conical head can be inserted easily into your asshole, and the tightened bottom makes it not slip off
4.Dual cock ring: the highly elastic two rings perfectly fit any penis size, making your dick red and thick, effectively delaying your ejaculation, your pleasure is about to be doubled!
5.Remote Control & Waterproof & USB: Aquatic fun? Double play? It's up to you. And USB rechargeable,it's durability won't let you down!
---
The above five prostate massagers are the 5 most popular prostate massagers on sitmulab.com, especially for anal sex game lovers or gays. You and your partner can choose the style you like according to your hobbies, and hope you have more sexually happy moments in your spare time.
Company Info
User Center
Payment & Shipping
Company Policies
Newsletter

Join our community