Top 5 Best Vibrators for Women in 2023|sitmulab
Feb 21, 2023
The Best Vibrators Will Help You Get Deep Orgasms
---
It goes without saying - the best vibrators are some of the most popular sex toys. The power they bring can turn a just-right sex or masturbation session into an exciting one, and they're often more "effective" than using your hands (sort of like a man's stroker).
The idea that doctors invented vibrators to more effectively achieve therapeutic orgasms may be an urban legend, but for many people, vibrators do make pleasure easier. They stimulate all your erogenous zones, which may be the stimulation your sex life has been craving.
Vibrators are one of the best sex toys for women, but men can also benefit from a tingling sensation there (or anywhere). Additionally, vibrators can be very helpful in dealing with sensitivity issues that make it difficult for you to feel pleasure or orgasm, such as taking antidepressants that can dampen sensations. Sometimes a few focused vibrations are just what you need to push yourself over the edge.
But not all vibrators are created equal. If you're shopping for a vibrator for the first time, be sure to choose one made from a body-safe material such as silicone or ABS plastic, and then make sure the vibrator you want has a variety of vibration settings available. You should also look for toys that fit your purpose in terms of form or function. For example, you may want a smaller vibrator if you plan to use it on the clitoris during penetrative sex, and the toy must have a flared base to be considered anal safe.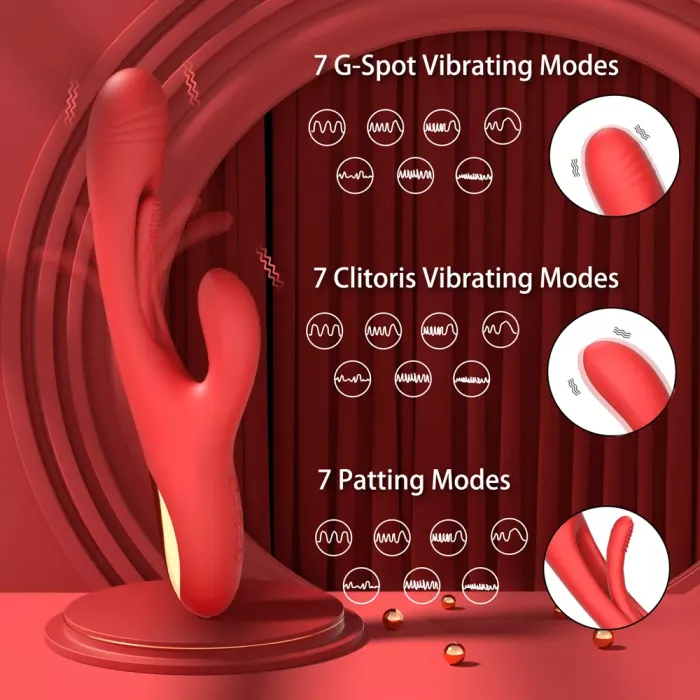 The Bora - Rabbit Tapping Vibrating All-In-One G-Spot Vibrato has a hollowed out main shaft, and we designed it to be a finger-like tapping stimulator with raised textures to tease your vulva sensitive spots. It taps your G-spot by simulating the provocative feeling of fingers through 7 different frequency stimulation modes. The slightly raised texture similar to fingerprints enhances the stimulation. We think it can greatly stimulate the G-spot of your genitals and give you Bring endless carnival.
We know that at this moment you are eager to try. It's worth noting that we also have a motor near the head of the spindle that delivers 7 different vibration intensities directly to your point A. Meanwhile, the short-end Rabbit is designed to constantly stimulate your clit with 7 vibration patterns simulating the wiggle of your tongue, and take your porn game up a notch with the Bora - Rabbit Tapping Vibrating All-In-One G-Spot Vibrato.
SPECIFICATION
▷ Material: ABS+Silicone
▷ Waterproof: IPX7
▷ Mute: ≤ 50 DB
▷ Modes: 7 Tapping Modes; 7 Vibration Modes; 7 Clit Vibration Modes
▷ Power Type: USB Magnetic Charging
▷ Size: 9.56" × 1.40" × 2.24"
▷ Packing List: Vibratorx1; Charging Cablex1; Instruction x1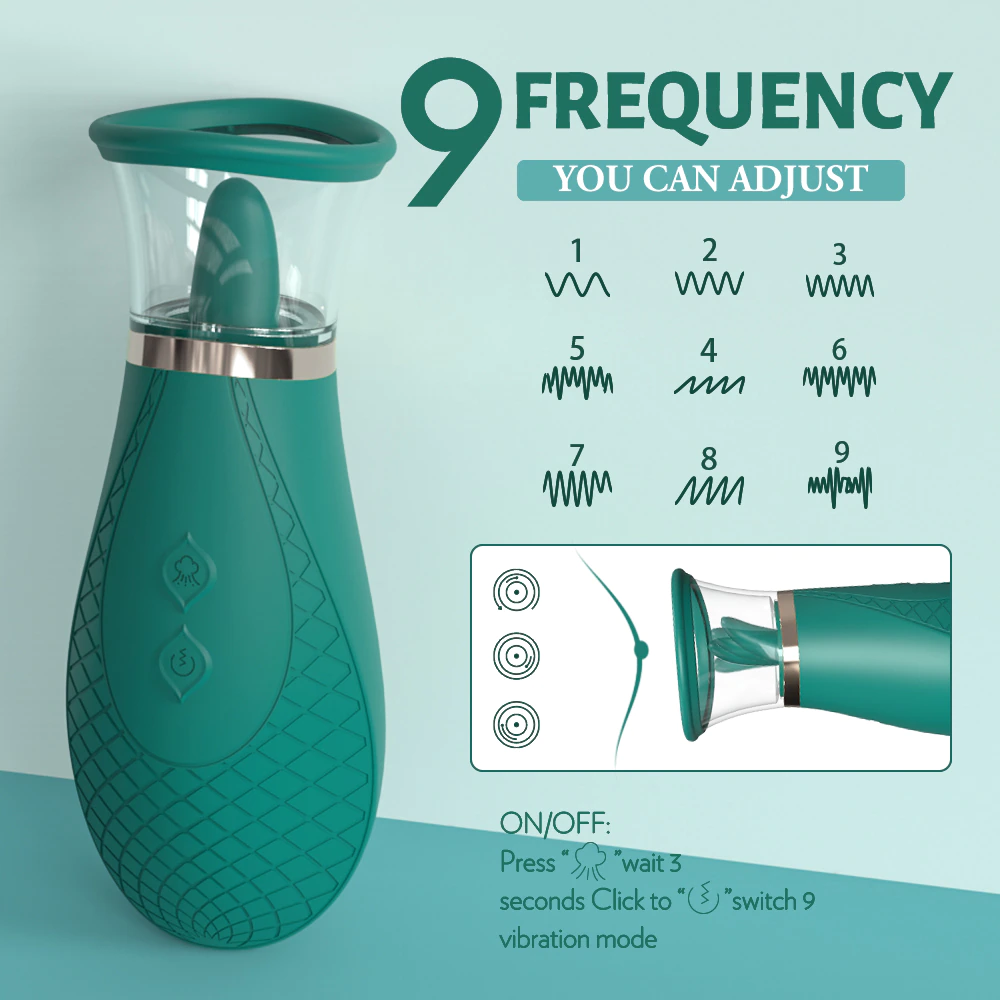 ❤ 3 Suction modes
The specially designed big mouth envelopes your entire vulva, creating an unexpectedly strong sucking sensation and deeply satisfying your needs!
❤ 9 Frequency tongue licking
The small tongue detonates millions of pleasure nerves, which is more lingering and stimulating than the real tongue, making you feel the joy of precise kisses every minute, and giving you a long-lost.
❤ More Play
More ways to play are waiting for you to unlock.
❤ IPX6 waterproof
100% waterproof, you can use this vibrator in the bathtub, shower or any other place you like, it is forbidden to soak this product in water for a long time.
❤ Quiet
The sound level is less than 50 decibels,, which is almost negligible. You can enjoy your secret sex at home or elsewhere without fear of being overheard.
❤ Safety Material
Non-toxic, odorless and skin-friendly. The clitoral stimulator is made of medical-grade silicone and allows direct contact with the female clitoris.
❤ Charging
USB magnetic charging, long-lasting battery life, no need to worry about orgasm interruption.
Note: The product does not work while charging. Please unplug the charging cable and long press the power button before use.
❤ Size
With ergonomic design, long-term grip is not numb, and the head is suitable for all sensitive parts of women. It fits easily into a bag and you can use it anywhere, anytime.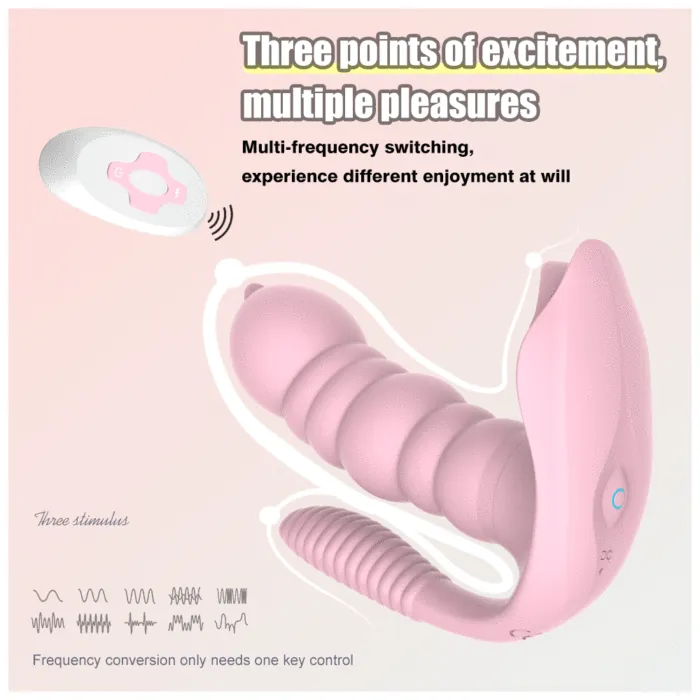 1.High grade medical silicone material, safe and reliable.
2. Powerful vibration for you.
3.Invisible and Wearable Vibrating Panties can be used in public area.
4.Head is realistic dildo, touch very soft and comfortable.
5. Power: USB charging
6. Living waterproof.
7. Discreet package without any sex words, we will protect your privacy.
8. Clean: After use, the vibrator should be cleaned soon , Warm water and soap can be used to clean , with special detergent and disinfectant.
9.Product size: L4.8 *D1.2 *W3.2 In, 0.54lbs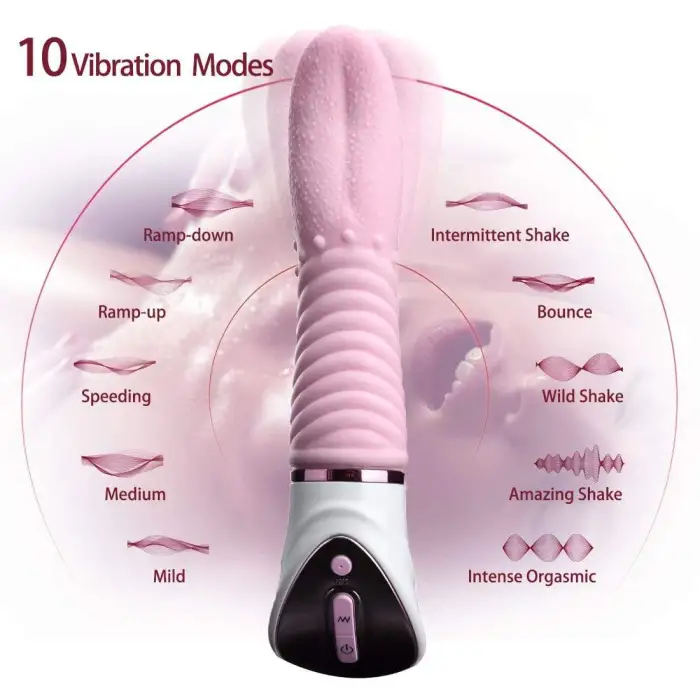 This sitmulab tongue vibrator is shaped like a real tongue, it owns the function of both tongue licking and vibrating. This tongue sex toy can stimulate the clitoris, vagina, anal, breasts and other sensitive parts, just letting you feel like being licked by a man's soft tongue, but this automatic tongue will never be tired! What's more, this tongue vibrator can also be used as a dildo vibrator, inserting the flexible tongue deep into your secret area, you will reach the top soon.
Made of high-quality silicone material, so it's safe and non-toxic. Realistic and ergonomic design, leading to soft, flexible and comfortable skin touch feelings. The simulation modeling and realistic texture offer you real experience.
It is essential to be stressed that this tongue sex toy has a super powerful motor, it has 10 modes of vibration for different stimulation, orgasms, and experience, adds more fun, brings a strong sense of excitement. As most women can climax with direct Clitoral stimulation, so vibrators with this double stimulation are more likely to cause an orgasm.
All of our adult sex toys will be provided to you in prudent packaging, and we take your privacy very seriously. And no one knows what's in it. If you encounter any problems when using this tongue vibrator, or other after-sales services, please feel free to contact us.
Hidden Shape: Lipstick shape, you can put it in your bag, nobody knows what is. What a stylish and secret design!
Waterproof: This product is a high level of the water-resistant and good anti-corrosive property, and has a strong but very quiet motor, don't worry about disturbing others, just enjoy yourself.
Multipoint Stimulation: Make you enjoy double pleasure. Earlobe massage, clitoris massage and nipple stimulation, all of these you can experience.
Convenient to Use: Not only can you enjoy it in your room, but it is also a compact & lightweight body that fits easily in your back! perfect size traveling portable
Interesting Design: The whole body of this lipstick contains lipstick styling, bull shape and crown shape. What a special design. While bringing you the pleasure, bringing you fun.
Company Info
User Center
Payment & Shipping
Company Policies
Newsletter

Join our community